Designs from St. Lawrence Pools
St. Lawrence Pools can build a concrete pool to match any shape or design you have dreamed of. Concrete pools are made on-site and we can adjust your design exactly to suit your space. Concrete pools look very appealing, and there are a range of surface finishes available from pebble to tile, depending on your preferences and budget. Concrete pools have been around a long time and that from a structural point of view they are reliable and strong.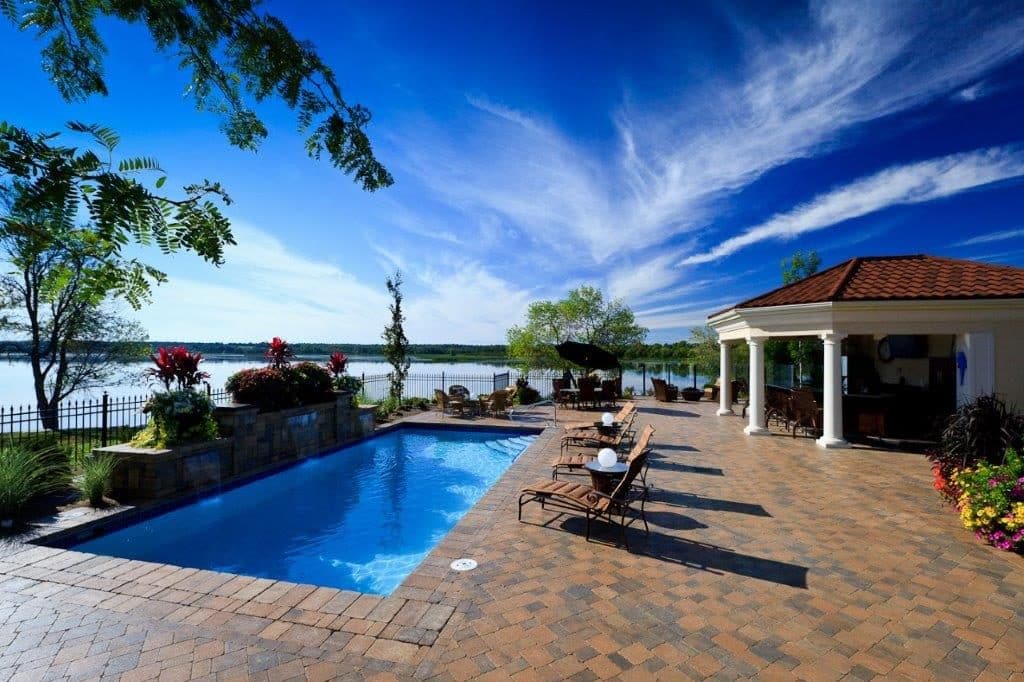 Pebble Technology Pool Finishes
Pool Finishes For New Pool Building & Pool Remodeling.
Pebble Technology International® (PTI) has been a driving force in the transformation of the pool building and remodeling industry as the manufacturer of The World's Most Trusted Pool Finishes™. PTI maintains its position in the industry with an unwavering reputation for high quality pool finishes, outstanding customer support, and dedicated sales and technical teams.
When concrete is sprayed at a high pressure, it is called shotcrete, due to the fact that it is 'shot' on the surface. There are actually two types of shotcrete―wet mix and dry mix shotcrete. It is this dry mix shotcrete that is commonly called gunite, just because the applicator is gun-shaped. The other type, wet mix, is simply called shotcrete.


Gunite

A gunite pool is a pool shell formed by spraying at a high velocity and pressure, a dry cement mixture that is mixed with water manually by the operator at the nozzle end.


Shotcrete

A shotcrete pool is a pool shell formed by spraying at a high velocity and pressure, a ready-made mixture of cement and water that has been prepared by the manufacturer.
St. Lawrence Pools Builds Only The Best.
As a Master Pools builder with the industry's highest standards our mission is to build you one of the finest pools in the world, and give your family a "Family, Fun and Fitness" vacation that lasts all summer. Quality, service and dependability are the cornerstones of our company and our four locations.