Quality, Integrity & Service
St. Lawrence Pools has over 50 years of experience in the pool industry.
Serving Kingston, Belleville, Brockville, Cornwall, Cobourg, Kemptville and surrounding areas. While trends and technology change, one thing that always remains the same; our unwavering commitment to quality, integrity and service. This philosophy guides us in our dealings with customers, our vendors and our employees. Our services and products extend beyond residential and commercial swimming pools. We also carry hot tubs, swim spas, outdoor furniture, fitness equipment, docks, billiards and much, much more!
St. Lawrence Pools Builds Only The Best.
As a Master Pools builder with the industry's highest standards our mission is to build you one of the finest pools in the world, and give your family a "Family, Fun and Fitness" vacation that lasts all summer. Quality, service and dependability are the cornerstones of our company and our five locations.
We believe that there's just no substitute for the honest quality that comes with skill, craftsmanship and experience. We use the best materials on the market and building practices that exceed the industry standard. We also stay on top of the latest industry trends and technology to bring you the most innovative and energy efficient pool systems available. The furniture, billiards and fitness equipment we carry is of the highest standards. We only offer the best to our customers.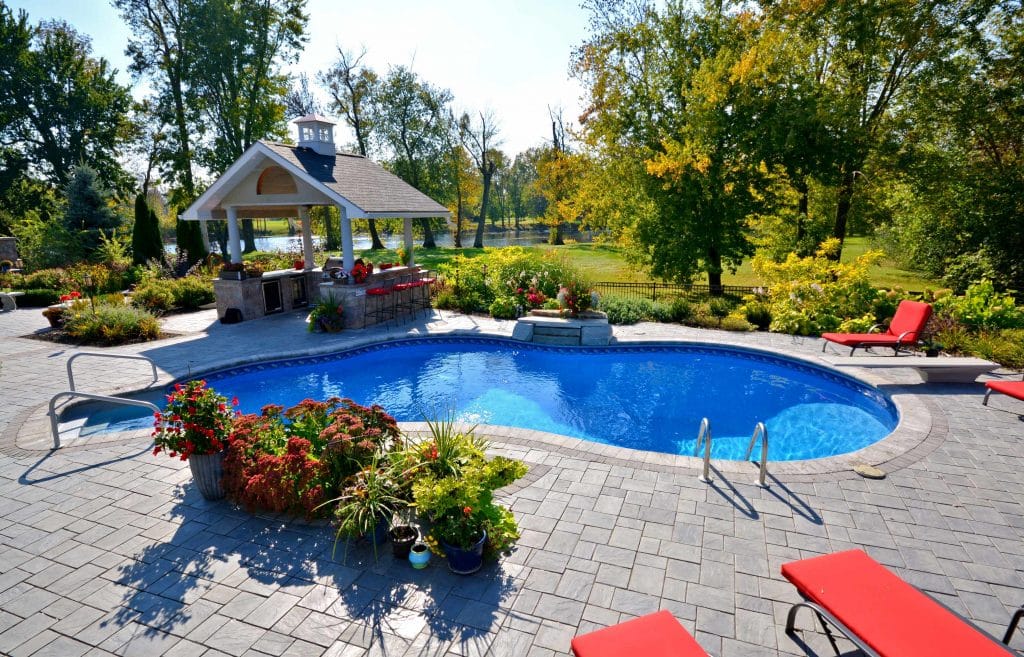 You can trust our time-tested knowledge and expertise. We make recommendations that serve your needs, not ours. And we'll never put something in your backyard or home that we wouldn't put in our own. Our integrity forms the basis of all of our business dealings. From our customers, to our vendors and on to our employees – we approach every partnership with the aim to develop an honest relationship built on mutual trust and respect. 
Your complete satisfaction is our ultimate priority. From the moment you contact our office, we will go out of our way to provide you with an outstanding customer experience. Our team is knowledgeable and can make suggestions for equipment or swimming pool designs to fit your budget, space and needs. As we browse our portfolio together we'll take note of shapes, styles and design elements you prefer, and discuss in detail your likes, dislikes and plans for the space to get a true sense of your tastes and needs. We never rush you or pressure you into hasty decisions, and we'll always be available to answer your questions or address any concerns.